Copyright © 2010 The Tarzi Family & The Tarzi Family Historical Society

Berlin  -  California  -  Geneva  -  Istanbul  -  Kabul  -  Kandahar  -  London  -  Moscow  -  New Delhi  -  New York  -  Rome  -  Washington D.C.

Mohammad Seddiq (1905 - 1983)

Mohammad Seddiq Tarzi was born in Kabul, Afghanistan, in 1905 during the reign of Amir Habibullah Khan. He was the fourth son of Muhammad Zaman Khan Tarzi, famed Royal Librarian to King Habibullah Khan. He has served the country and people of Afghanistan in numerous ways while raising honorable and successful children who would carry on his tradition of service.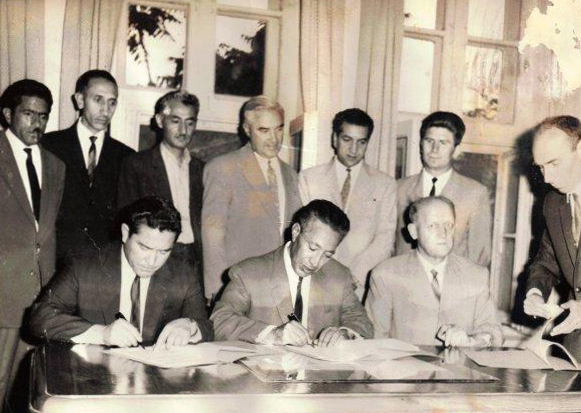 Early Life

Born in Kabul, Mohammad Seddiq Tarzi attended Harbi (Military) School, graduating in 1924. During the year of his graduation, Afghanistan sees increased political and social instability due to the progress of many social reforms. From 1924 to 1927, he would relocate to Moscow to pursue higher education. During his time there, Afghanistan and the Soviet Union sign a treaty of neutrality and mutual non-aggression, which begins closer relations between the two nations.

Public & Military Service

From 1948 to 1953, Mohammad Seddiq Tarzi served Afghanistan vis`-a-vis the Army. As a senior official in the Afghan Army, Mohammad Seddiq Tarzi was the nations official representative in all Afghan and Russian boarder agreements and conferences. During this time in 1953, a protocol is signed in Kabul concerning trade between the Soviet Union and Afghanistan. He was also, for a time, Rais-e-Sarhadat (President of Bandarwali). In late 1952, of numerous years of military and political service, Mohammad Seddiq Tarzi requests early retirement from the Army. He would go on to serve Afghanistan in other capacities.

Additional Public Service

From 1952 to 1984, Mohammad Seddiq Tarzi held numerous positions in Afghan Government, beginning as Vice President of the Afghan Transit Corp. During this time in 1954, the Soviet Union loans Afghanistan $3.5 million for the construction of a 20,000-ton grain elevator for a flourmill that grinds wheat. Later, he would serve as President of the Central Silo, the organization that was responsible for the storing and distribution of wheat and bread for the entire military and major populations centers. This position put him at the helm of major agricultural operations and advancements that fed millions of Afghans. In this capacity, he also sent Afghan students abroad to study engineering and agriculture. Additionally, he oversaw the Polkhomri silo as well. Soon thereafter, he would serve as Vice President of the Monopolies of Afghanistan.

Later Years

Mohammad Seddiq Tarzi served Afghanistan for numerous decades, dedicating his time and wisdom to many key decisions made in Afghanistan. He would become a permanent member of the Afghan Historic Society and permanent member of the Adabi (Literature) Society. He also left behind over 70 books, articles, and translations – most of which were published. His writings were regularly published in Urdue magazines, Kabul magazines, Aryana, Karwan, Ayineh Erfan, and Yaghma in Iran.

Mommad Seddiq passed away on June 20, 1983, and was buried next to his father in Kabul, Afghanistan. He leaves a strong legacy of service that affected the lives of many in Afghanistan. His legacy continues through his children Ruhullah Khan Tarzi, H.E. Nanguyalai Tarzi, Prof. Zemaryalai Tarzi, Hafiza Tarzi, Laila Tarzi, and Homa Tarzi.


Mohammad Seddiq Tarzi with President Kliment Voroshilov of the Soviet Union in Silo.